The quality of zelkova tree's beauty in November changes between the beginning and the end.
In early November, its hefty amount of leaves exhibits the warm color gradation of green, yellow and orange, and it is beautiful indeed.
Zelkova leaves are falling off in large quantities through November, and in the end of November only the branches striking the sky remain.
Colorless black and white photograph is suitable for its lonely appearance.
But mid-November, it may be the least spectacular view, so I took it with Infrared camera so that it can have more attractive contrast.
Japanese Translation 日本語対訳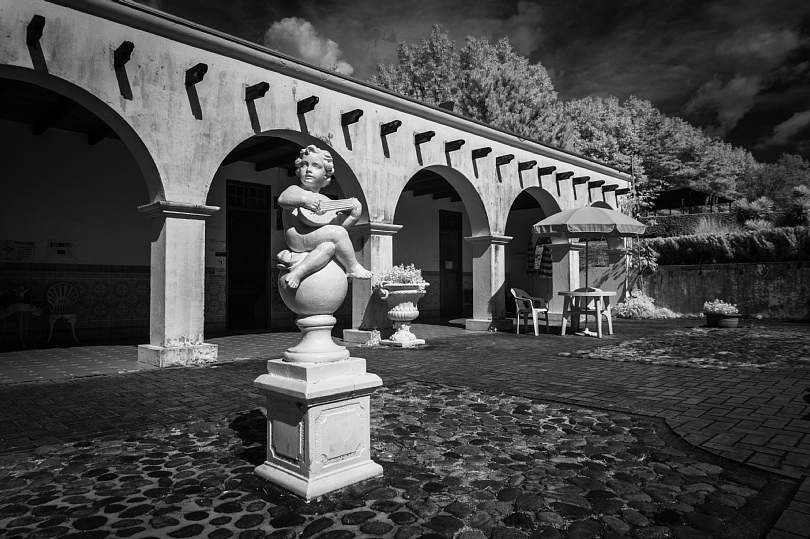 In Western gardens, we often see stone statues of children.
This kind of statue is not often seen in Japanese gardens.
Even in the East, statues of children are sometimes seen in a Chinese garden.
I feel that Japanese gardens tend to be ascetic.
It is interesting that the sense of beauty of gardens varies considerably from country to country.
Japanese Translation 日本語対訳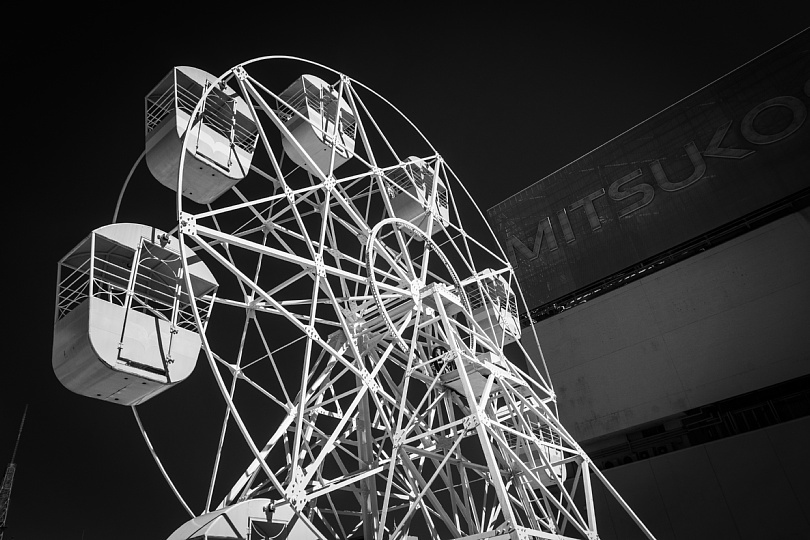 This is the oldest ferris wheel in existence in Japan, installed on the roof of Mitsukoshi department store in Nagoya.
Many department stores used to have small amusement parks for children on their rooftops.
Department stores built them expecting the so-called "shower effect" that increases sales by means of letting the family members who enjoyed the amusement park on the top floor go down lower floors for shopping.
However, this ferris wheel was shut down in 2005 and the rooftop amusement park itself has disappeared.
With fewer people shopping at department stores these days, and the declining birth rate becoming more and more pronounced, the maintenance of rooftop amusement parks has become unprofitable.
Japanese Translation 日本語対訳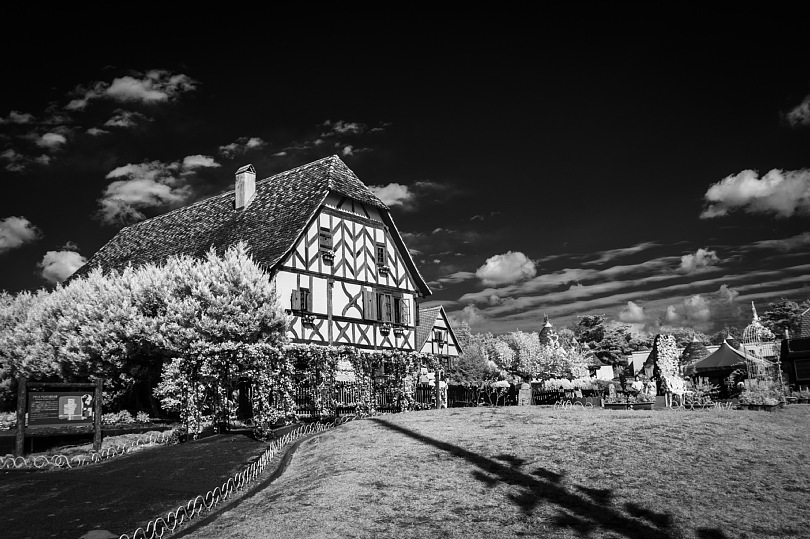 Alsace, France, had a lot of forest, but not much stone, so many of the houses were traditionally wooden.
In the house called "Colombages" which is often seen in the Alsace region, its framework is assembled with wooden posts and beams, and the opening space of the framework is filled with white plaster, bricks, etc., to make a wall.
This timber-framed building had been actively made in forested areas such as Germany, France, Holland and England.
The Colombages houses in Alsace were built in the 16 ~ 17 century and many were unfortunately destroyed during World War II.
But after the war, many people loved the gentle taste of natural materials rather than comfortable modern architecture, and many new columbages were built.
Japanese Translation 日本語対訳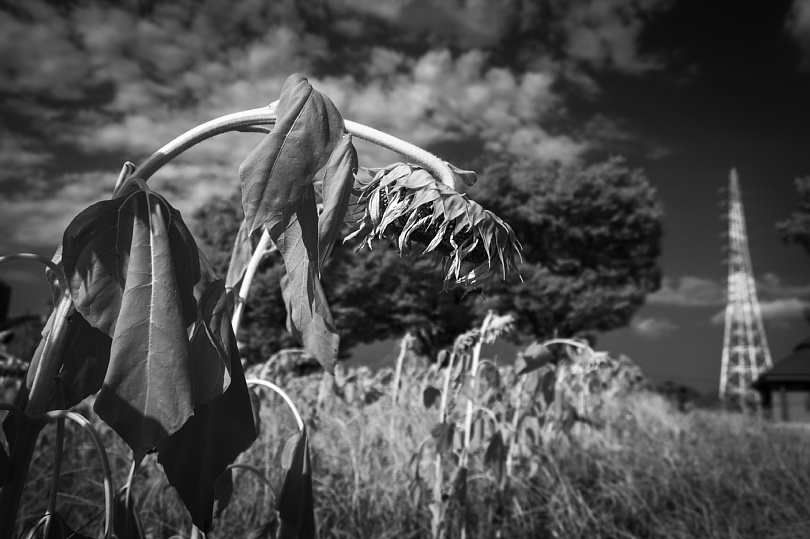 At the end of summer, we often see drooping sunflowers.
It's too pathetic to take a color picture, so I decided to take a monochrome picture.
This time, I attached an orange YA3 filter to a full spectrum camera.
The YA3 filter transmits visible light at 560 nm and above, so infrared photos with a slightly softer atmosphere were taken.
The sunflower leaves don't turn pure white, but the sky in the background is rather dark and it seems to be somewhere between a normal photo and an infrared one.
Japanese Translation 日本語対訳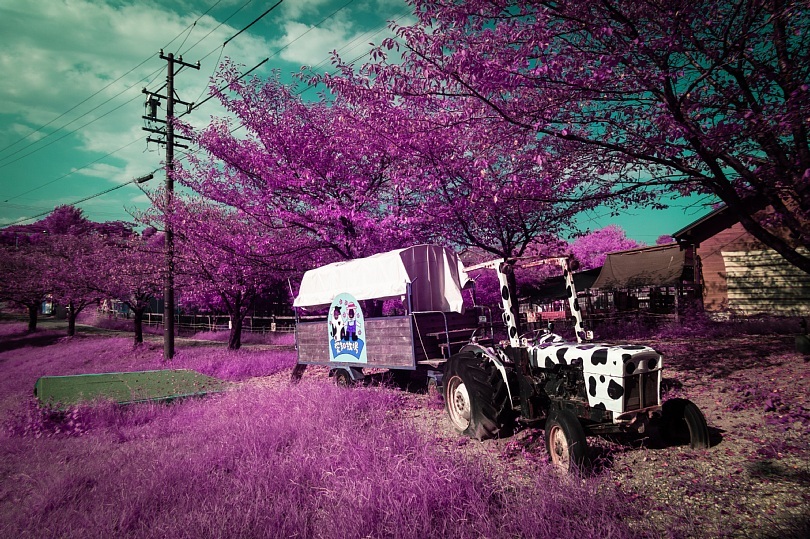 A full-spectrum camera is a modified digital camera that is sensitive to all wavelengths of light: ultraviolet, visible, and infrared.
It's also possible to cut out light at a specific wavelength by using a filter colored in any color, but its rendering is full of unexpected wonder.
For example, this picture was taken with a green filter attached.
The green artificial grass on the far left is depicted green as it is, but all the green trees are colored in a dark magenta.
I don't understand why, but it might have something to do with chlorophyll.
Japanese Translation 日本語対訳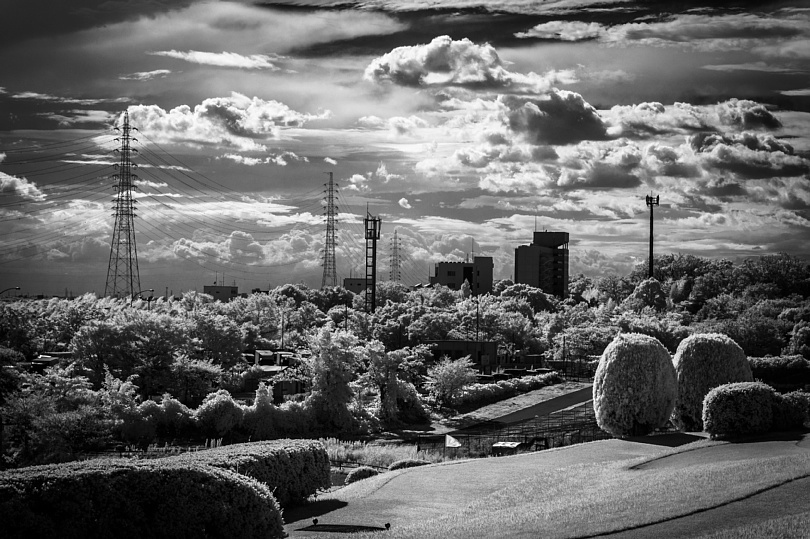 Infrared photography gives the impression of surrealism because the plants appear white and shiny.
This impression stands out most when taken in direct light on a clear day.
Therefore, when I started taking infrared photos, I took them only in direct light on sunny days.
But when I was shooting under the dim light of cloudy skies or under harsh backlighting, I found that infrared photography was surreal and had a different kind of appeal.
Sometimes acting against the rules also opens up possibilities.
Japanese Translation 日本語対訳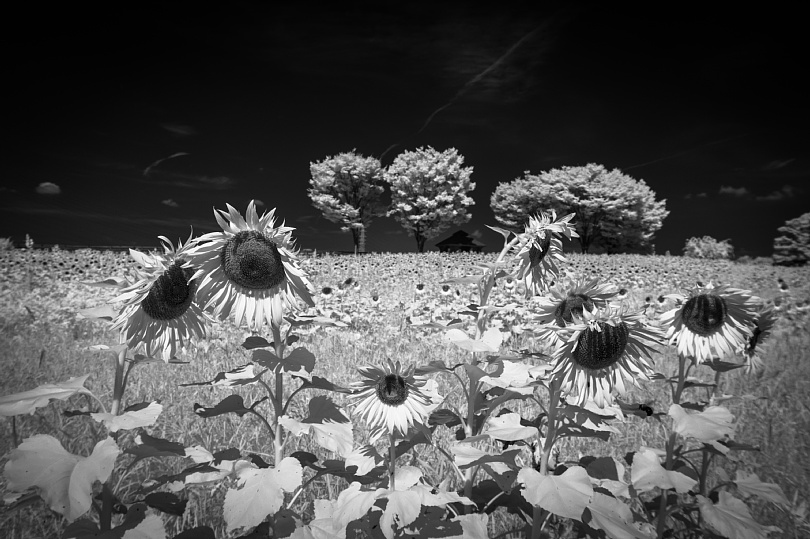 Can you tell when this photo was taken?
A young sunflower faces east in the morning and waits for sunrise, and in the evening it follows the sun and blooms westward.
However, mature sunflowers only face east.
The reason is that sunflower is preparing to stop growing and grow seeds, that is, die.
These mature sunflowers were shot in normal light, that is, facing the east direction, so we know this photo was taken in the morning.
Japanese Translation 日本語対訳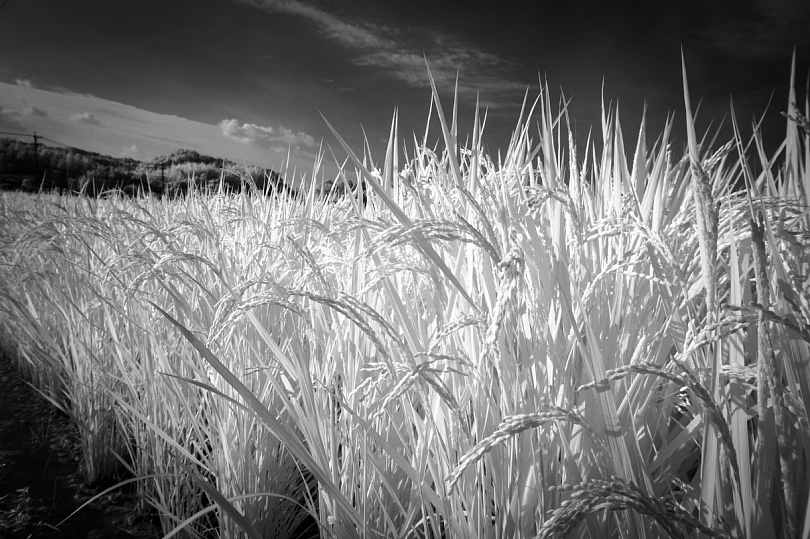 In the rice field of Wase, the ears have already started to droop.
The Wase is a variety of early ripening rices that are planted in April and harvested at the end of August.
It seems that the reason for cultivating Wase is to complete the harvest before it is damaged by the typhoon.
In normal cultivation, the harvest time of rice coincides with the time when a typhoon strikes, so the rice may collapse due to strong winds and long rains, resulting in a decrease in the yield.
In addition, since it can be harvested earlier than normal cultivation, other crops such as autumn buckwheat can be cultivated in the rice field after harvesting, which has an advantage that the land can be used effectively.
Japanese Translation 日本語対訳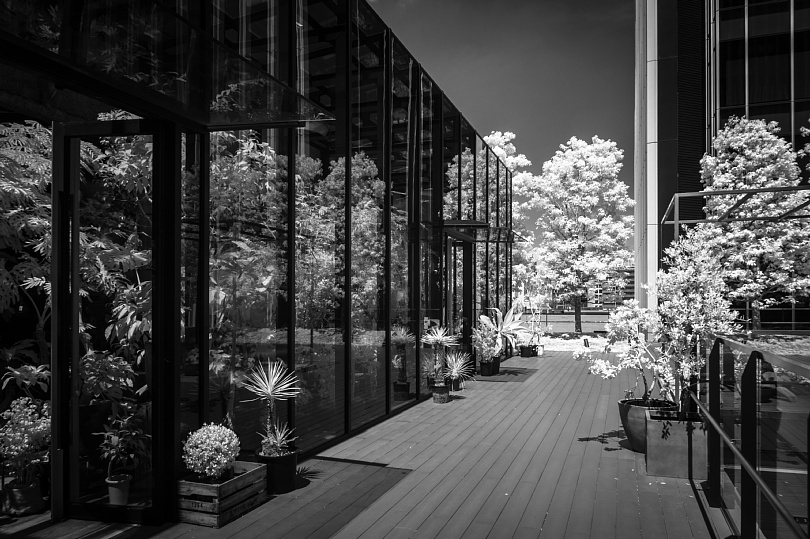 Compared to the average year, the rainy season this year has fewer sunny days.
Normally, even during the rainy season, there are days when there is a beautiful sunny day about once a week.
This year, however, I haven't seen super clear sky for more than 2 weeks.
Every day I fall in love with the bright sunshine and the blue sky.
But when the rainy season is over, I have a hunch that I'm complaining about the intense heat.
Japanese Translation 日本語対訳